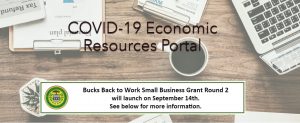 The County of Bucks is launching the second round of the Bucks Back to Work Small Business Grant on September 14, 2020. Funded through the Federal CARES Act, the Bucks Back to Work program is intended to aid businesses in Bucks County and ease some of the financial burden caused by COVID-19.
For questions regarding this program please email the County of Bucks at bucksbacktowork@buckscounty.org or visit the County of Bucks' COVID-19 Economic Resources Portal by clicking here.
The County's Economic Resources Portal provides a link to the Bucks Back to Work Grant Overview document along with a link to signup for the Business Webinar #2: Bucks County and COVID-19, happening on September 9, 2020 at 3:00pm. This portal contains useful and pertinent information related to COVID-19 intended for businesses in Bucks County.