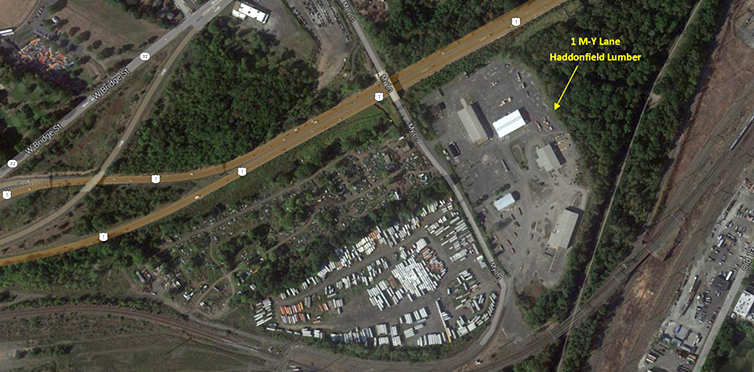 The Bucks County Industrial Development Authority (BCIDA) has been nominated to receive the Pennsylvania Brownfields Conference Extreme Makeover Award for its work at the former Haddonfield Lumber Yard. The Extreme Makeover Contest "Brownfields Edition" will feature the Haddonfield Lumber Yard project for consideration of a grant under the Industrial Sites Reuse Program. The award is sponsored by the Pennsylvania Department of Economic and Community Development with the support of the Pennsylvania Department of Environmental Protection.
The former Haddonfield Lumber Yard is located at 1 M-Y Lane, an abandoned rail served industrial site located in Falls Township, Bucks County. The site was formerly a manufacturing distribution facility for residential building materials. As currently envisioned, the BCIDA is seeking to acquire, improve and install necessary roads, infrastructure, utilities and landscaping to this site, including repairing the currently unutilized rail spur, in order to produce fully pre-developed five acre lots at the site.
The other nominees for the award include the Redevelopment Authority of the County of Montgomery for the Crossings at Ambler Station and the Mt. Airy Transit Village for the Wissahickon Charter School.
Each project will be presented during the ninth annual Pennsylvania Brownfields Conference to be held at the Radisson Valley Forge Hotel in King of Prussia, Montgomery County from December 9 to 11. The Extreme Makeover presentations will be scored by a panel of judges and attendees of the conference. The winner will be announced at the conclusion of the conference on December 11. The Pennsylvania Brownfields Conference is the largest brownfields networking and education event in Pennsylvania.
Brownfields are properties in need of expansion, redevelopment or reuse, but because of actual or anticipated hazardous substances, pollutants or contaminants, that work is made more challenging. Pennsylvania's approach to brownfields redevelopment has proven to be a national model for transforming abandoned, idle properties into places of environmental protection and economic opportunity.
To view a video of the project, visit DEP's YouTube channel.
To learn more about Brownfields redevelopment in Pennsylvania, visit www.dep.state.pa.us, or call 717-783-1566.
Contact: Pete Krauss, Executive Director, Bucks County Industrial Development Authority jpkrauss@buckscountyida.com or call267-880-6071