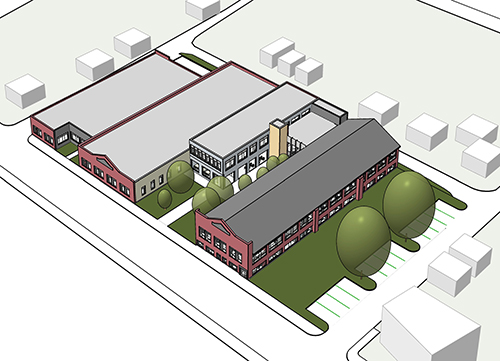 The Bucks County Board of Commissioners is pleased to announce their first loan project approved through the county's "Bucks 2 Invest" economic development program. The "Bucks 2 Invest" program, announced by the Commissioners in February 2013, was created to spur economic development growth in the county in part through the efforts of the Bucks County Industrial Development Authority (BCIDA), a Commissioner directed entity. The BCIDA manages five loan programs for the county's "Bucks 2 Invest" initiative: Bucks Renewed, Bucks Rebuilt, Core Industry Fund, New Economy Fund, and Taste & Tour.
Gorski Engineering, Inc. is the owner and developer of this groundbreaking project located at 18 S. Fifth Street in Quakertown Borough, Bucks County. Gorski Engineering received low-interest loans totaling $400,000 from the New Economy Fund and $70,000 through the Bucks Rebuilt program. The total project is estimated to cost nearly $5 million. Gorski will re-purpose the 60,000 square foot building for three tenants when completed.
Roselon Industries, Inc. (Robert Adams, President) will occupy 10,600 square feet of the newly renovated building. Roselon (previously Spinlon) occupied the building for 40 years. They are maintaining their corporate headquarters and R∓D in the new space and will continue with their business of texturing synthetic fiber to make specialty yarns for athletic clothing, socks, and gloves.
The primary tenant will be Synergis Technologies, Inc. (David Sharp, III, President and CEO) which will occupy 33,000 square feet of the building. Synergis is comprised of two independent divisions – Synergis Software, developers of Adept Engineering document management solutions, and Synergis Engineering Design Solutions, the premiere Autodesk solutions provider in the mid-Atlantic region. Synergis currently leases space in two separate locations in other parts of Bucks County. They would like to combine operations into one location and have selected this site in Quakertown Borough. They currently have 107 employees and plan to grow over the next three to five years to 135.
There will be space for an additional tenant of 5,000 square feet of office space or 12,000 square feet of flex space. The Bucks County Commissioners are proud to support this project and look forward to many more of these types of loan partnerships through the Bucks 2Invest program in the future.
For more information, contact: Chris Edwards or Juliet Kelchner at 215-348-6415